Traduzione italiana per Reinhard von Hennigs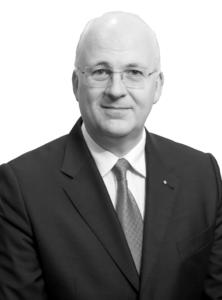 Reinhard von Hennigs è il Presidente e Fondatore di BridgehouseLaw LLP, uno studio legale con sede nella Carolina del Nord con uffici negli Stati Uniti, Canada e Germania. È abilitato alla professione di avvocato negli Stati Uniti (Carolina del Nord), in Germania (Rechtsanwalt), in Georgia (Consulente in Diritto Estero) e presso la Corte Suprema degli Stati Uniti.
Con oltre venticinque anni di esperienza nella comunità degli affari legali internazionali, il Sig. von Hennigs parla regolarmente con i leader del governo e delle associazioni imprenditoriali su importanti sviluppi nel diritto internazionale. Ha presentato a Camere di Commercio, associazioni di categoria e università sia negli Stati Uniti anche in Germania. Il signor von Hennigs fornisce regolarmente consulenza alle società che operano a livello globale sulle strategie di ingresso nel mercato. Il suo lavoro si concentra principalmente sugli investimenti diretti esteri (FDI) e lavora strategicamente con i clienti per stabilire strutture legali che soddisfino le esigenze aziendali del cliente, nonché considerazioni su immigrazione, tasse, responsabilità e normative.
Nel 2016, il Sig. von Hennigs è stato eletto presidente di Bridge Alliance, un'alleanza internazionale di studi legali con pratiche in Germania, Spagna, Arabia Saudita, Stati Uniti, Canada, Brasile e Cina. È il presidente della Charlotte Chapter of the Entrepreneurs 'Organization (EO), un think tank globale e un gruppo internazionale di imprenditori peer-to-peer.