Step-by-Step Guide for Expediting Your Green Card Application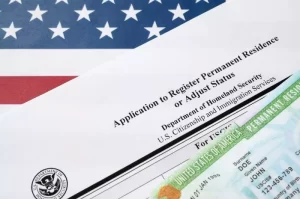 Before reading this step-by-step guide, please confirm that you have a qualifying reason for submitting an expedited adjudication request through the USCIS by reviewing Bridgehouse Law's guidance on the matter.
If you meet one or more of the eligibility requirements listed on our blog, please follow these next steps:
Step 1: Wait for Your Receipt Notice
The first step of this process is to wait to receive your receipt notice(s). This receipt notice(s) will contain your receipt number(s). You must wait for your receipt notice because you will need this when contacting USCIS.
Step 2: Call USCIS and Speak to a Tier 1 or Tier 2 Officer
You can request expedited processing by calling the USCIS Contact Center at 1-800-375-5283 (TTY: 800-767-1833). The phone representative will forward you to the USCIS service center that handles your case.
Individuals will typically wait more extended periods to speak with a USCIS representative. It would be best if you asked to talk with a Tier 1 or Tier 2 USCIS officer who can help you with your expedited request. The USCIS Contact Center creates and forwards a service request to the office with jurisdiction over your application or petition.
Step 3: Submit Your Request and Take Note of Your Expedite Service Request Number
The USCIS officer will ask for (1) your receipt number; (2) your email address; and (3) any additional identification information so they can begin your request. Once the USCIS officer has placed your request, they will provide you with an expedited request service number. Record and keep this number for future identification of your request.
Step 4: Submit Requested Documentation and Track Expedite Request Process
After receiving the service request, the reviewing office may request additional documentation to support expedited processing. So that you know – the supporting documents USCIS requests from you will depend on the circumstances behind your expedited request.
You must respond to the email request as soon as possible with the supporting documentation requested from USCIS. Supporting documentation should be combined into ONE PDF file and include at most 15 pages. Please include all supporting documentation in ONE email, so proofread and double-check documents before sending the files. USCIS will only accept one email response to their request for supplemental documentation.
You'll be able to track your expedited request using the expedited service request number referred to in Step 4. This website will also prompt you to create a USCIS online account. Please check any updates to your expedited request through this online account.
Step 5: Receive Decision on Expedite Request, Petition, or Application
So that you know, a decision on an expedited request is not an approval or a denial of the underlying benefit request. The expedited decision informs the requestor whether USCIS will take the benefit request out of date order and issue a decision (approval or denial) faster than the average processing time. This process can take up to 30 days. USCIS will email you their final decision on your request to the email you sent on your original application.
If USCIS approves your expedited request, you should be able to see USCIS's final decision on your applicant portal in about a week. Continue to track your expedited request via the online system.
If you have any more questions or concerns about this process, don't hesitate to contact one of our attorneys at Bridgehouse Law. We look forward to assisting you with your applications!
Notes
This refers to Immigrants Like Us, How to Expedite Your Immigration Application available at https://www.immigrationhelp.org/learning-center/how-to-expedite-your-immigration-application (updated December 7, 2022).
This also refers to the U.S. Citizenship and Immigration Services, U.S. Department of Homeland Security, How to Make an Expedite Request available at https://www.uscis.gov/forms/filing-guidance/how-to-make-an-expedite-request (last modified Oct. 10, 2023).